Jesse James: Outlaw?
Welcome! The purpose of this website is to peer into the historical circumstances surrounding the life of Jesse James, to gather in one place links to many of the best Jesse James books, movies and websites across from around the Internet and to promote the recently published book CRIMES COMMITTED AGAINST JESSE W. JAMES: AN INQUIRY which takes a unique perspective on the life and times of Jesse James. I hope you enjoy your stay.
THE HISTORY OF JESSE JAMES
According to my father, Richard W. Blair, an historian specializing in the history of the American Civil War, whether or not Jesse James deserves his dark repuation as an outlaw depends upon which side of the fence you are sitting. After the Civil War, "many Southern sympathizers in Missouri, the James family among them, were victimized, terrorized, and robbed of all their material possessions in the name of the Union by the Federal militia." In the "whirlwind of hatred" generated by the Civil War, terms such as "law" and "justice" were not at all certain nor agreed upon by those along the border between Kansas and Missouri.
So, is Jesse James an outlaw? a terrorist? a freedom fighter? You decide.
Read Richard Blair's complete summary of the history of Jesse James.
CRIMES COMMITTED AGAINST JESSE W. JAMES: AN INQUIRY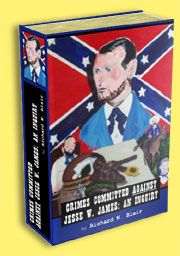 My father was fascinated in particular by one of the more interesting — and he believed misunderstood — characters of the era, the outlaw Jesse James. He spent the latter part of his life striving to understand the complexities of the life of Jesse James and the emerging chaos of the post-Civil War world he was reared into.
In 1991 he completed writing the book CRIMES COMMITTED AGAINST JESSE W. JAMES: AN INQUIRY, a fictionalized but fact-based retelling of the Jesse James story. My father became ill and passed away before he had the chance to pursue publication of this work.
In memory of the countless hours my father spent doing background research for this book, and in order to give others that share an interest in Jesse James the opportunity to experience my father's unique perspective, I've made it available for purchase and immediate download as an electronic book direct from this website.
For more information about the book, please contact me at mblair@jessejamesoutlaw.com.
- Mark R. Blair.
© 2005 Mark Blair. All Rights Reserved.