About the Book
The manuscript for CRIMES COMMITTED AGAINST JESSE W. JAMES: AN INQUIRY was completed in 1991. As Richard Blair's health deteriorated, his manuscript sat on the shelf untouched until 2004 until it was converted into a modern format and published electronically at this website. The book is in Adobe Acrobat format and is 196 pages.For more information about the book, please contact mblair@jessejamesoutlaw.com.
---
In the author's own words, about
CRIMES COMMITTED AGAINST JESSE W. JAMES: AN INQUIRY: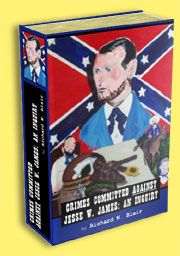 Yes, the Jesse James story has been around for a long time and has been told and re-told many times. There have been many books written about Jesse James, some better than others, some more scholarly than others. Most follow a familiar format. All from the usual perspective. This book, however, tells the story of Jesse James using a different perspective in a completely new format.
Special hearings (i.e., Watergate, Iran-Contra, the Keating five, etc.), seem to be a permanent fixture in American life as we near the end of the twentieth century. These special hearings of Congress have helped shape our understandings and set the parameters, the dimensions, of resolving thorny contemporary issues. Suppose, though, our contemporary form of problem solving through the hearing process had been used extensively in the nineteenth century as it has in the twentieth. Just think what a useful tool it would have been for those thorny issues of the past.
Suppose the Missouri State Senate had authorized a Select Committee to investigate the circumstances surrounding the assassination of the notorious outlaw Jesse Woodson James. In addition, suppose that the Missouri State Senate authorized that a special prosecutor be appointed with sufficient staff to probe witnesses in seeking out the truth no matter where it leads or who it hurts or how high up the political chain it goes.
Suppose the Missouri State Senate, through this Select Committee, could question those contemporaries of Jesse James, to find of just what really motivated his persecutors, to find out the truth behind the conspiracy that not only led to Jesse's assassination but to his being outlawed in the first place. Suppose this Committee could reveal the Constitutional dangers and pitfalls in the practice of the government to target its citizens as a warning for the future. Suppose this Committee could have listed the crimes, not committed by Jesse, but committed against Jesse James by the State of Missouri and those acting under "color of authority."
Suppose. Suppose. Suppose.
© 2005 Mark Blair. All Rights Reserved.